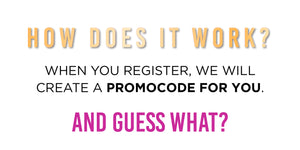 To be eligible to participate in LooliaCloset Ambassador Program, you must have a minimum of 1,000 (one thousand) followers on your public Instagram account and a minimum of 20 published posts.
Upon registration, you will get a promocode for a 15% discount on your order from LooliaCloset.
This gift can be used only one time, so make sure to stock up on your favorites and enjoy the savings!
Everytime an order is placed on LooliaCloset using your promocode, it counts towards your number of promocodes used. However only delivered and paid orders are considered valid.
Canceled orders will not be counted.
Once you exceeds 5 orders loolia closet team will contact you to update you on your performance
You can contact us on +962782777444 (WhatsApp), DM and email: jordan@looliacloset.com